Here at MBS, we offer a variety of creative avenues for aspiring young musicians. At the heart of this is our team of peripatetic music professionals who provide tuition in a wide variety of instruments and ensure our levels of musicianship are of the highest standards.
Please find a short biography of each below.
Sheila Stocking – Drums
Sheila started drumming in 1984 when she bought a drum kit and joined a punk band. She continues to play, record and perform in bands playing drum kit in a range of styles including jazz, reggae, dub, Drum and Bass, free improvisation, Township, and she also plays Djembe in clubs with DJ's.

Having come from a background in psychology and education, Sheila combines the two interests, having taught music in primary schools and drum kit and Djembe in all settings for all ages.

She has been teaching drum kit and djembe ensemble at MBS since the school opened.
Chris Brewster – Brass
Chris is currently on trial with the orchestras of Opera North and the Welsh National Opera. Having previously played as principal trombone with the European Union Youth Orchestra, he has toured across Europe and Oman between 2019 and 2021.
As a keen chamber musician, Chris is a founder member of Connaught Brass, winners of the inaugural Philip Jones International Brass Ensemble Competition 2019.
As well as being a versatile performer Chris enjoys teaching across London and undertaking outreach work supported by the Worshipful Company of Musicians.
Julian Fish – Violin and Viola
After completing his postgraduate studies at the Royal College of Music with Ani Schnarch, Julian has played with orchestras including The Royal Northern Sinfonia, The Philharmonia, Manchester Camerata, The City of Birmingham Symphony Orchestra and Philharmonia Zurich.
As a soloist, in recent years Julian has performed with London Concertante, European Union Chamber Orchestra, Barnet Symphony Orchestra and the Sale Chamber Orchestra.
Being a keen chamber musician, Julian was a founding member of the Guastalla Quartet
Sam Braysher – Clarinet, Saxophone and Flute
Mr Braysher teaches woodwind at Marylebone Boys' School. His education work has included roles at Junior Guildhall and City University London, as well as giving workshops at various universities and conservatoires. As a freelance jazz saxophonist, he has released two albums and regularly performs at venues including Ronnie Scott's, Pizza Express Jazz Club and Cadogan Hall.
Alex Scheuerer - Guitar
Alex Scheuerer has been a professional musician for 10 years in London. He graduated from the Consevatoire of Classical Music in Geneva in 2010 and Bimm College of Music in London in 2012.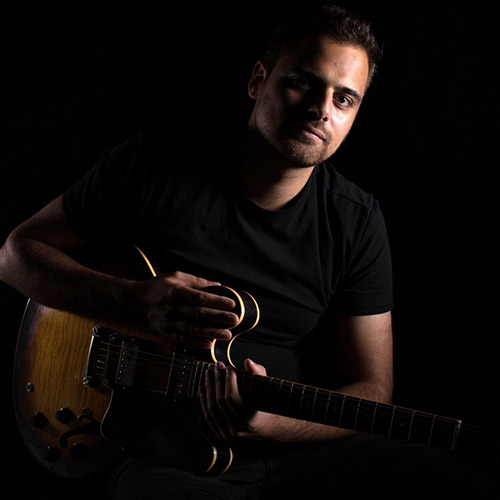 He plays theatres around the UK with an Elton John tribute band called Rocket Max. Alex has also played Glastonbury, toured the UK and Europe and is a session guitarist.
Alex's tracks have been played on the BBC introducing radio, Planet Rock radio and as part Cafe Nero's in-house music.
Alex has been teaching guitar in schools and privately for over 10 years. His active career within the music industry has provided him with plenty of experiences and valuable insights that he shares with his students. He prepares his students for Grade exams following the Trinity, ABRSM or Rockschool Syllabuses, which helps prepare them for their Music GCSEs.
He does his best to ensure fun and engaging lessons that are fruitful and will positively influence his pupils to expand their musical horizons and interests.
Maria Hernandez – Piano and Voice
Maria has been singing, playing piano, and writing songs since a very young age. At the age of 14, she won The English Key prize singing "When You Believe" by Mariah Carey and Whitney Houston on the TV show Cantamania in Salou (TV3). She attended Aula Musics (the prestigious school of 'El Liceu de Barcelona') to study the professional degree of jazz and blues, the Conservatoire of Tarragona to study classical music, Acción-Escena School of Actors of Madrid to study a professional course of Musical Theatre and the British and Irish Music Institute in London (West London University) to study BA Creative Musicianship.
Her goal is to create an atmosphere that encourages participation where students make progress every week. She uses a wide range of teaching strategies and resources which are necessary to meet different learning styles taking into consideration the students' interests, abilities, background and needs to help them become independent learners.
Working with external organisations
We also have working relationships with a number of musical organisations, including the Royal Academy of Music, Inner Voices, and other industry professionals. The experiences the boys receive through these outlets is invaluable, allowing them to connect with other young and professional musicians from around the London area.
Music enrichment
In addition to individual instrumental instruction, we offer a wide variety of after-school clubs, including.
Jam Band – This is a club open to any boy that wishes to try his hand at being a member of a band. There is no prerequisite knowledge needed to attend. This leads naturally into our jazz band for boys who show the ability and interest.
Djembe Club – Open to all, our djembe club is very popular and features at all our concerts. The boys learn about West African drumming, polyrhythms, cyclic rhythms and more.
Choir – Our choir is an outlet for boys who are enthusiastic about singing. It is a very supportive group of young men and a great opportunity for them to express themselves using their voice.
Guitar Group – Our guitar ensemble is a great place for boys to learn to read tablature notation and hone their skills playing in an ensemble. Open to all ability levels.
Jazz Band – this is an audition only based club where advanced young musicians have an opportunity to thrive. Jazz scales and improvisation techniques are honed.
Core curriculum Key Stage 3
In Year 7 we focus on the elements of music through singing, basic musical notation through keyboard skills and Caribbean music via the ukulele. This gives all Year 7 pupils the background needed to deepen their learning in Year 8, where we learn about blues, film, and African music. In Year 9, we shift our focus to ICT based lessons where the boys compose music using music technology. These areas of study prepare our students for the GCSE curriculum should they wish to pursue music as an option at Year 10.
Core curriculum Key Stage 4
In Year 10 and 11 we offer an integrated approach to the three distinct disciplines of performing, composing, and appraising through four interrelated areas of study. The four areas of study are designed to develop knowledge and understanding of music through the study of a variety of genres and styles in a wider context.
The Western Classical Tradition forms the basis of Musical Forms and Devices (area of study 1), and learners should take the opportunity to explore these forms and devices further in the other three areas of study. Music for Ensemble (area of study 2) allows learners to look more closely at texture and sonority. Film Music (area of study 3) and Popular Music (area of study 4) provide an opportunity to look at contrasting styles and genres of music. Learners are encouraged to develop their knowledge and understanding of music through performing.
All learners are required to perform a minimum of two pieces, of which at least one must be as part of an ensemble performance lasting at least one minute. The other piece(s) may be performed either solo and/or as part of an ensemble. One piece must be linked to one of the four areas of study. The use of music technology and improvisation is accepted within both solo and ensemble performances.
Learners are required to develop their knowledge and understanding of music through composing. All learners are required to create and develop musical ideas in relation to given and chosen briefs. Learners must submit two compositions with a total playing time of between 3-6 minutes.
Core Curriculum A Level
The A Level music curriculum is designed to allow learners to pursue their own musical interests. Learners develop skills in the three distinct but related disciplines of performing, composing, and appraising, whilst having flexibility to specialise in either performing or composing. Learners may choose to apportion ten percent of their assessment to either performing or composing as an in-depth study.
The A Level curriculum is designed to offer contrast and breadth as well as depth of study. Learners will engage with both classical and popular music. All learners will study the development of the symphony, engaging with landmark orchestral repertoire, which is important in developing knowledge and understanding of musical elements and language in context. Learners will use the musical language of this period to compose one piece of music to a brief. Learners will also study an area of study on musical theatre and one further area of study exploring the musical language and styles from the early twentieth century.
Performances
We have three performances that take place over the course of the academic year, where our students can demonstrate their talent to their peers, parents, and faculty. These include the Christmas Concert, Easter Concert and Summer Awards ceremony. These events are a wonderful opportunity for our students to build their confidence by performing in front of an audience, an integral part of being a musician. Additionally, we work with external organisations where our students play for the wider community and represent our school.